Bernie Sanders is an independent running in Vermont. He is honest and fights for very important issues, such as corporate domination of media, workers rights, and protecting the environment. I donated some money to his campaign, which you can do too by going to his website: www.bernie.org.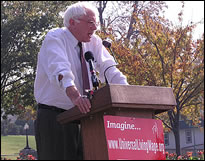 You can also learn more about what he is doing now in the House of Representatives at: www.bernie.house.gov
No Responses to "Help Bernie Sanders Become Senator"
Marcela Says:
April 25th, 2018 at 4:39 am

Seu blog tem muita qualidade, coisa que não acho
em outros blogs, as informações, existentes em outros web sites não dão esses
tipos de coisas completas que consegui ler aqui.
Parabéns. http://jmht.journal.ipb.ac.id/index.php/jurnalilkom/comment/view/1070/0/134762

BerryJuicy Says:
June 20th, 2018 at 3:33 pm

I often visit your site and have noticed that
you don't update it often. More frequent updates
will give your website higher authority & rank
in google. I know that writing posts takes a lot of time, but you
can always help yourself with miftolo's tools which will shorten the time of creating
an article to a few seconds.
Leave a Reply